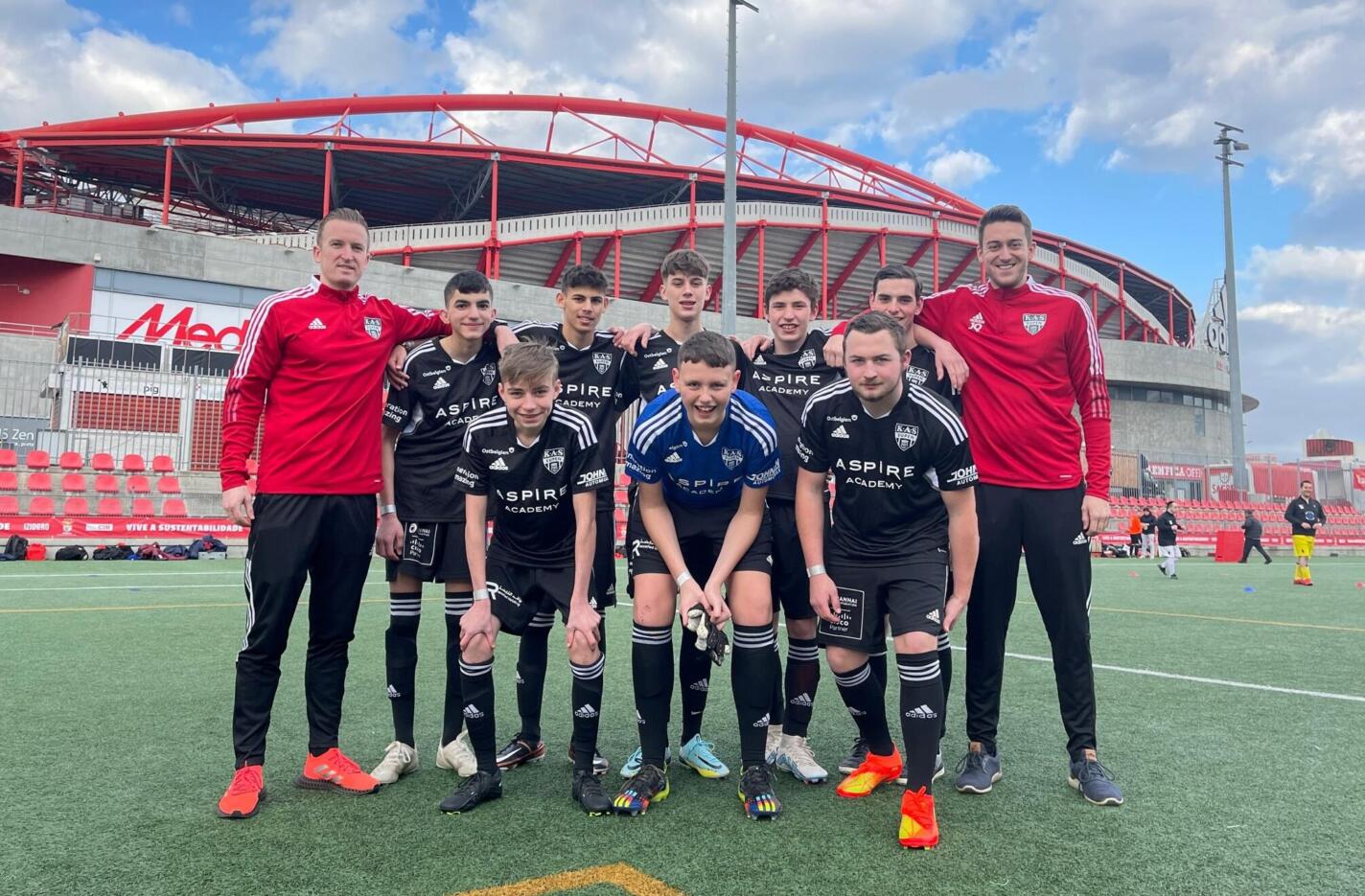 Team of KAS and ZFP Eupen at Special Champions League tournament in Lisbon
An unforgettable premiere was celebrated by the Special Champions League team of KAS and ZFP Eupen in Lisbon. The team, formed in September with East Belgian players aged 15-16, participated this week with twelve other European professional clubs in the first Special Champions League tournament of the European Federation EFDN. Encounter, joy of soccer, inclusion and exchange were in the foreground at the opening ceremony in the stadium of Benfica Lisbon and on the day of the tournament. The results are secondary, but it can be said that the Eupen team did very well in the tournament.
KAS Eupen was the only representative of Belgium in the 1st Special Champions League tournament. Other participating clubs included Bayer Leverkusen, Werder Bremen, Ajax Amsterdam and Everton FC. Joint organizers of the tournament are the Special Olympics organization and the European Football for Network EFDN, which was founded by the European Union and now includes well over 100 soccer clubs.
As part of its social commitment under the motto #Morethanfootball, KAS Eupen is one of the committed clubs of this association. As project manager, the communication officer of KAS Eupen, Jessica Loo with the support of Johannes Queck prepared and organized the participation in the EU project Special Champions League Tournament.
The team of KAS and ZFP (Center for Special Education) Eupen has been training once a week since the beginning of the current school year under the responsible coach Zeno Mennicken.
A second European tournament is already being organized in Leverkusen in June, and friendly matches and workshops are also being planned.
Jessica Loo, communications manager at KAS Eupen and head of the EU project: "We at KAS Eupen are happy and proud to be part of this European project and to be actively involved in driving it forward. Due to the Corona pandemic, the start was delayed, the more excited we are now about the success of the first Special Champions League tournament in Lisbon with the participation of our team from KAS and ZFP Eupen."