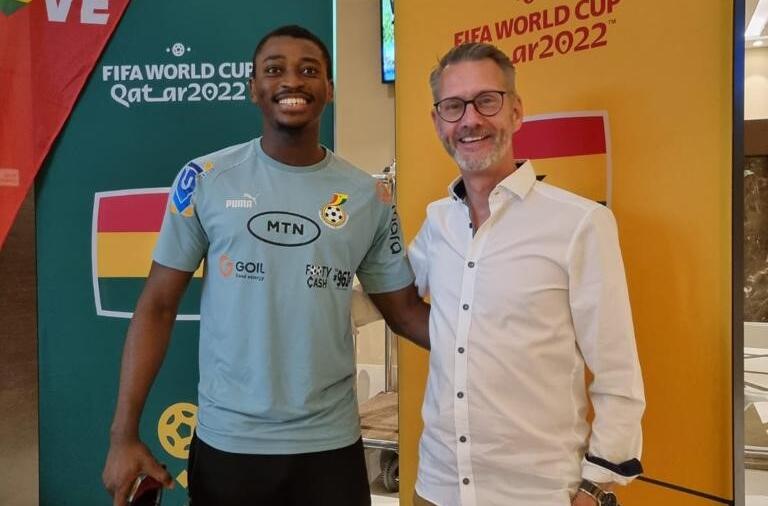 Manaf Nurudeen: "Participating in the World Cup was a dream come true"
Goalkeeper Abdul Manaf Nurudeen became the second player in KAS Eupen's history to take part in the FIFA World Cup in Doha. Abdul Manaf was part of Ghana's line-up four years after Moussa Wague played in the 2018 World Cup for Senegal. Despite a 3-2 win over South Korea, Ghana missed out on a place in the last 16 by one point after defeats to Portugal (2-3) and Uruguay (0-2). Since the beginning of this week, the 23-year-old has been back from the World Cup in Qatar and is training with the team again. In an interview, he describes his impressions of his participation in the World Cup.
The return from the World Championships was certainly connected with a cold shock for you. From warm Qatar to Eupen, where there is permafrost at the moment. What was that like for you?
I always feel very cold in autumn, winter and spring in Eupen, but I have got used to the climate in the meantime. But now the transition was extreme. Especially because I was able to spend a few days in Ghana with my family after the World Cup in Qatar. In both countries it's currently around 30° Celsius, so the sub-zero temperatures in Eupen are particularly hard.
You're talking about your home country Ghana: How do people feel about the team's performance there, including a victory over South Korea?
There are mixed feelings, in my country and in my team, but nevertheless the positive outweighs the negative. We can be proud to have qualified for the World Cup and to have performed well overall. This showed the potential of the team and that we can look to the future with confidence. On the other hand, we are also disappointed that we didn't take advantage of good scoring opportunities against Uruguay, including a penalty kick. After all, we had set our sights on more with a young, talented and ambitious team and our coach Otto Addo.
What does it mean to you to have been part of the Ghana squad at this World Cup?
For me, participating in the World Cup was a unique experience that made me very happy. Particularly because I had a difficult time here at the club with not much playing time. So it was even nicer for me that the dream of participating in the World Cup with the Ghana national team came true. I am very grateful for that.
As a player, what do you experience of the World Cup atmosphere?
Of course, we were mostly shielded in our hotel and on the training ground. But you still get to see a lot, and it's great when you're travelling with the team bus, for example from the airport to the hotel, or on the way to the stadium, and when you experience and enjoy the atmosphere in the stadium itself. That impressed me a lot.
Was this World Cup also the highlight of your sporting career so far?
Definitely. That is something I will never forget. It's the dream of every football player to take part in a World Cup.
You didn't play any minutes. Do you still feel that the four weeks of work with the national team have brought you forward?
Absolutely. Training and living with the national team brings you a bit further every time. You have other coaches and players who play in the top leagues. You always learn a lot there and I also feel that I've made progress. This has also made me stronger for my work at KAS Eupen and gives me new motivation, which we all need to achieve our goal of staying in the league.
The FIFA World Cup comes to an end this weekend with the final between France and Argentina but also with the match for third place between Croatia and Morocco, the first African country to reach the semi-finals. What does this mean for football on your continent?
That means a lot, a lot, because African teams have always had a hard time in the past to compete in the final stages of the World Cup and reach a semifinal. Some have come close, like Ghana in 2010, where we were only knocked out by Uruguay in a penalty shoot-out in the quarter-finals after a dramatic match. Morocco making it to the semi-finals now is a big step for African football.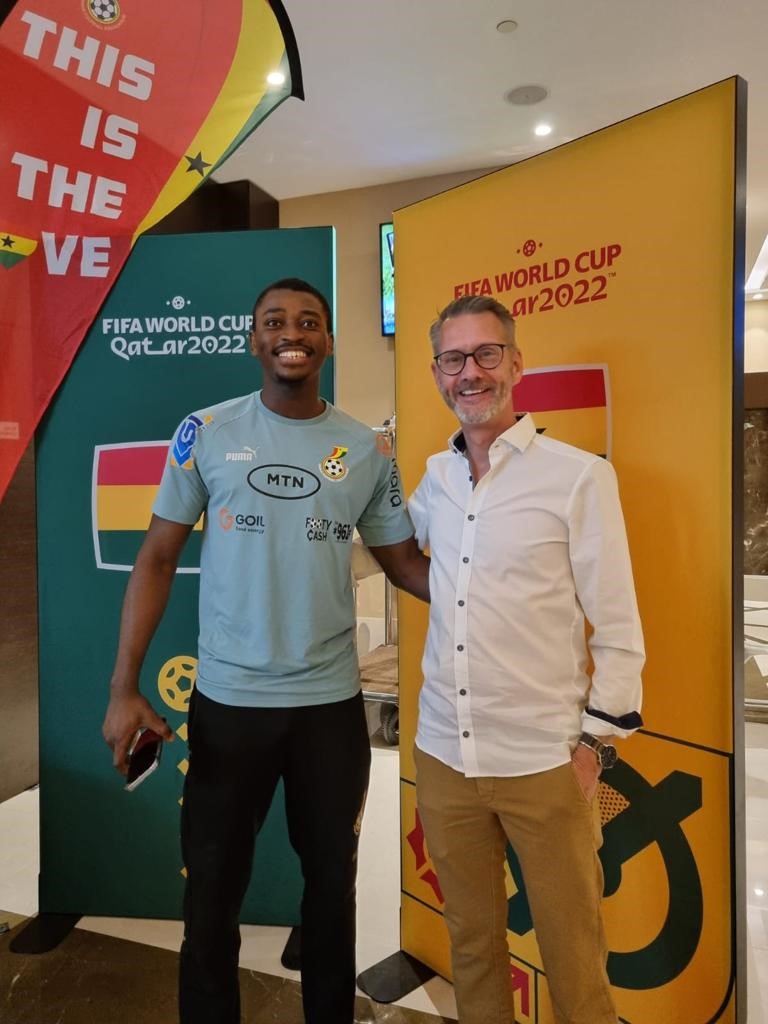 Manaf Nurudeen in Doha with Thomas Herbert, Finance Director of KAS Eupen, who conveyed his club's greetings and support.